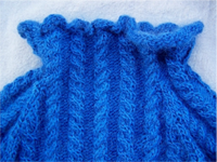 I HATE sewing sweater seams!
Even though I am a decent seamstress of both hand and machine, I still do not like to line up and sew seams in sweaters. Especially when the yarn wants to give me problems in creating a neat and professional looking seam.
And then there is the frustration of all those hours upon hours of joyful knitting to find out after you seam up dreadful sides and sleeves that your sweater does not fit you. It is either too small, too big, too short or too long. Or worse yet - all of it!
These problems caused me to delve into the world of seamless sweaters and eventually knitting from the top down.
I first tried knitting from the bottom up. The pattern I used seemed easy enough, except when I reached the part where you attach the sleeves the instructions were left out. Well, I figured it out and went on to knit several sweaters this way. (Check out my Fall Leaf Raking and A Summer Picnic sweaters.)
Then one day while knitting with my Thursday knit group one gal was knitting this incredible cable sweater from the top down. How wonderful!
I found a basic pattern with all the calculations and I was off knitting my first top down sweater. I loved it. Since that first experiment, I have found ways to improve the increases and ease up on all those mind boggling calculations.
A phrase I have put in many of my first top down pattern really tells the story:
Now comes the beauty of knitting from the top down. The size of your sweater depends on how long you continue these increase rounds. (Change to larger circulars when needed.) No need to worry about your measurement being correct - you can try your sweater on to see how long your increases need to be! Knit on an extra circular needle or place your stitches on a piece or waste yarn long enough to give you plenty of ease. Put the sweater on and check! You can modify and check to see if you need more or less sts, more or less rows before the underarm join.
It is an amazing phenomena! Wala! Your sweater fits you!
A top down sweater pattern can accommodate all body types. It will fit your body as you increase the stitches and rows. The pattern stitches as you increase also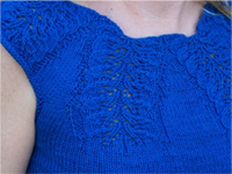 My
Blue Skies
sweater was my first endeavor to a sleeve technique that is very exciting. I don't know if anyone else has knitted this way. It is one technique I plan on continuing to experiment with. Look for it in my sleeveless designs.

Since then, I have designed other unique knitting patterns with different techniques.
I hope you discover the wonderful world of knitting from the top down and fill your sweater chest with countless favorites!
Nancy